These athlete plates will help guide you to make balanced meals for your unique nutrition needs for exercise.
All athletes and fitness enthusiasts have different nutrition needs for exercise based on their sport, position, body size, the intensity of training, and several other factors.
In a given year, athletes go through different volumes of training. In season, they may reach their peak training load, while in offseason, their training load is largely reduced. The United States Olympic Committee partnered with University of Colorado Colorado Springs to create three sample athlete's training plates to simplify the approach to fueling for exercise.
Components of the Training-Based Athlete Plates
These plates aim to help simplify the approach to achieving your needs for your exercise routine, depending on the volume of training you're doing. Let's take a closer look at each plate and how you can build your own athlete plate. You'll be able to better navigate your changing nutrition needs of training. Here are lists of example foods that can fit in each category
Good-Quality Grains
Bread (aim for at least 1/2 whole-grain)
Pasta (aim for at least 1/2 whole-grain)
Bagels (aim for at least 1/2 whole-grain)
Quinoa
Rice
Amaranth
Buckwheat
Oats
Teff
Fruits & Vegetables
Leafy greens
Broccoli
Cauliflower
Carrots
Beets
Sweet Potatoes
Turnips
Potatoes
Corn
Pumpkin
Squash
Onion
Apples
Oranges
Lemons
Limes
Grapefruit
Raisins
Dates
Berries (strawberries, raspberries, blueberries, etc.)
Apricots
Peaches
Nectarines
Banana
Melon (cantaloupe, honeydew)
Lean Protein
Tofu
Tempeh
Salmon
Tuna
Chicken breast
Ground turkey
Ground lean beef
Healthy Fats
Avocado
Chia seeds
Walnuts
Almonds
Peanuts
Hemp seeds
Ground flaxseed
Sunflower seeds
Pumpkin seeds
Avocado oil
Olive oil
Easy Athlete's Training Plate
Now let's dive into the plates! This plate most closely resembles the plate recommended for the general population for a healthy eating pattern. It is best for easy training or weight management.
From the USOC & UCCS for an Easy Day: "An easy day may contain just an easy workout or tapering without the need to load up for competition with energy and nutrients. Easy day meals may also apply to athletes trying to lose weight and athletes in sports requiring less energy (calories) due to the nature of their sport."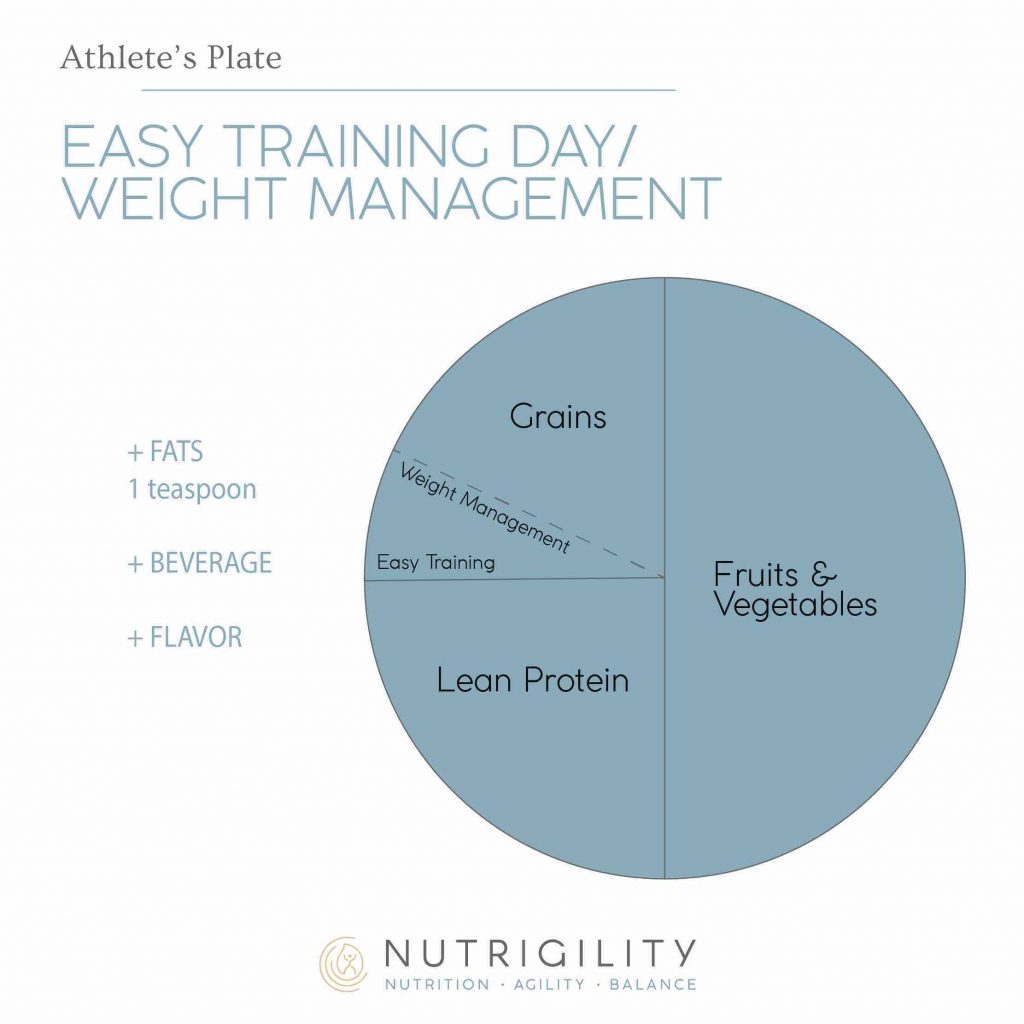 For an easy training/weight management plate, you will have:
½ plate mix of vegetables and fresh fruit
¼ plate quality protein
¼ plate whole grains or starchy vegetables
1 teaspoon of healthy fats
Water and/or unsweetened beverage
Flavorings as desired
Moderate Day Athlete's Training Plate
From the USOC & UCCS for a Moderate Day: "A moderate day may be one where you train twice but focus on technical skill in one workout and on endurance or strength in the other. The moderate day should be your baseline from where you adjust your plate down (easy) or up (hard/race)."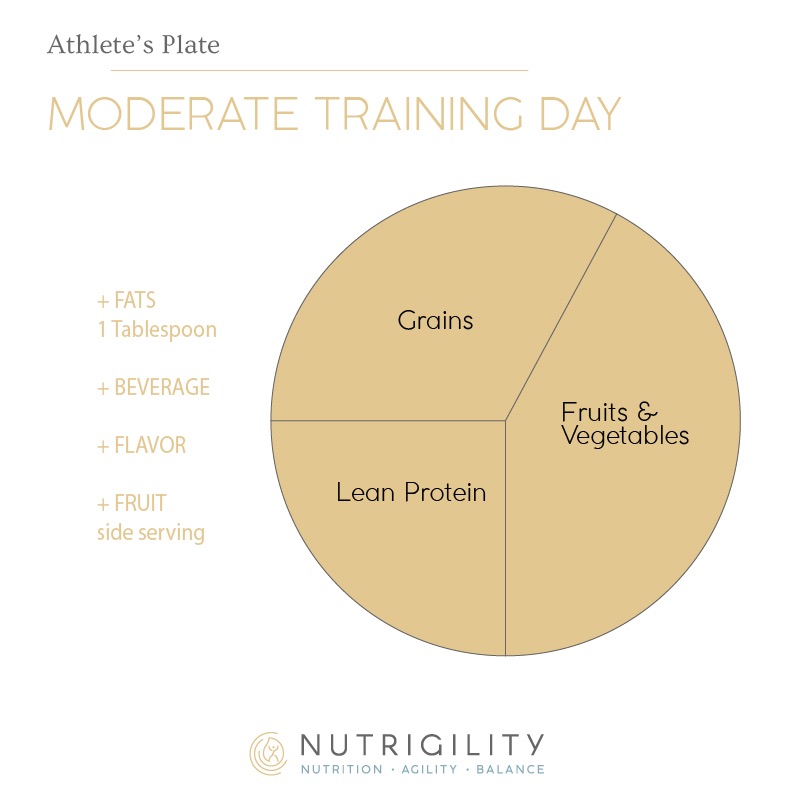 For a moderate training plate, you will have:
1/3 plate of mixed vegetables and fresh fruit
Additional fruit added to your plate
¼ plate quality protein
1/3 plate grains (at least 1/2 whole) or starchy vegetables
1 Tablespoon of healthy fats
Compared to the easy plate, this plate has:
A more equal distribution of grains to vegetables
Two added servings of fruit
Three times the amount of fat (3 teaspoons = 1 Tablespoon)
Hard Day Athlete's Training Plate
This plate is a great guide for pre-competition meals for endurance sports. Even though your plate is the same size, the food choices that you are filling your plate with should have a higher energy density, which means they have more calories to fuel your exercise. This is why you see the increase in grains/starchy vegetables and fats – they are naturally higher in energy.
From the USOC & UCCS for a Hard Day: "A hard day contains at least 2 workouts that are relatively hard or competition. If your competition requires extra fuel from carbohydrates, use this plate to load up in the days before, throughout, and after the event day."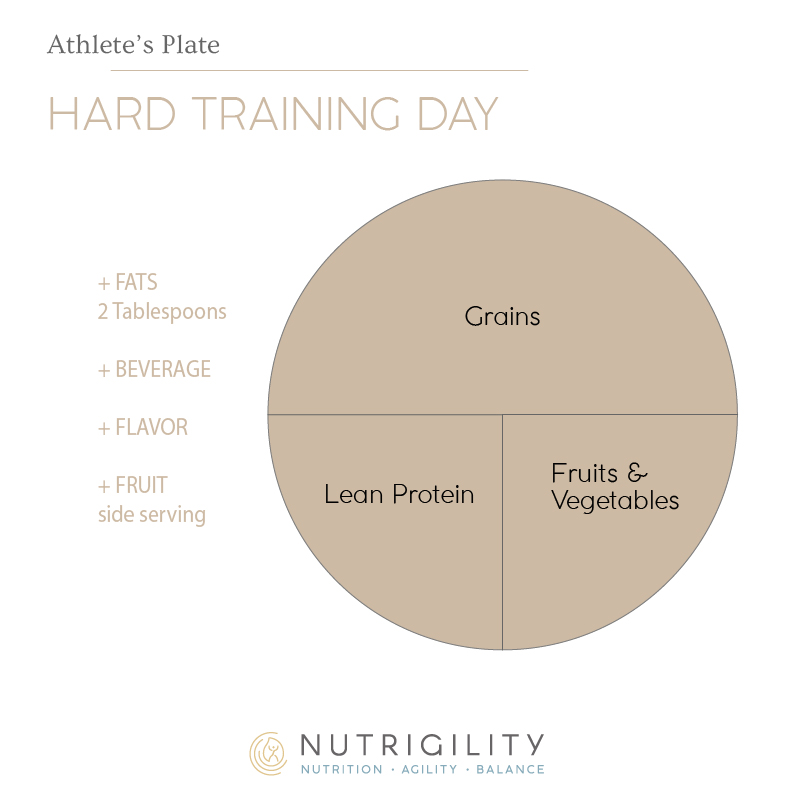 For a hard training plate, you will have:
¼ plate mix of vegetables and fresh fruit
Additional fruit added to your plate
¼ plate quality protein
½ plate whole grains or starchy vegetables
2 Tablespoons of healthy fats
Water and/or unsweetened beverages
Herbs, spices, salt, and pepper
Compared to the moderate day training plate, this plate has:
Double the amount of fat
1/6 more grains
1/6 fewer vegetables
You can download each original athlete's plate PDF on Team USA's nutrition page. If you're a coach, you are allowed to use these for educational purposes with your athletes!
Which Athlete's Plate to Choose
In the course of a year, an athlete or avid exerciser will follow each plate pattern at some point depending on their training schedule. This can change week to week, or even throughout each day. One of the most important factors in deciding which plate to replicate is the type of exercise done each day.
Using MyPlate to Estimate Needs
While all athletes needs vary, and it's best to meet with a Registered Dietitian for specific advice and nutrition plans, you can use this tool as an estimate for your calorie needs. It will also provide suggested portion amounts for each of the food groups based on your age, gender, height, weight, and activity level.
Just press start below, input your information, and at the end, click on your recommended calories to see the detailed MyPlate plan for a balanced plate.
Are Carbs Good for Athletes?
I've commonly seen athletes scared to eat the amount of carbs they need to fuel their exercise. With the number of fad diets that target low carb eating, I don't blame them. One of the main reasons I love using these athlete plates is that they clearly show how carbohydrate needs change with different loads of exercise. It's a simple equation:
Increased Training Load = Increased Carbohydrate Intake
In one of my previous posts, I provided a chart for exercise-specific carb recommendations.
Good Snacks for Athletes
While these plates are fantastic as a general guide, athletes often aren't eating all of their meals or snacks on a plate. Remember, it's a good habit to include water or other fluids at snack times too. Here are other examples of balanced, good snacks for athletes that contain carbs, protein, and fat:
Nonfat Greek yogurt with raisins and walnuts
Trail mix with an apple
Apple, low-fat string cheese, and almonds
Brown rice cakes with nut butter and banana
Banana, honey, and peanut butter on whole-grain bread
Almonds, apple, Greek yogurt, cinnamon
Energy bar with a banana
Game Day Nutrition
Depending on your sport, you may need a different level of training plate. For example, golfers may need a moderate plate pre-competition, but need to optimize their snacks and meals throughout the long day. A soccer player should be targeting a hard day training plate about 3-4 hours before the competition.
Adapted Athlete Plate for Vegetarians and Vegans
The USOC and UCCS also created Vegetarian and Vegan Sample Athlete's Plates.
Note that these sample plates for vegetarians and vegans say to add Vitamin D, B12, iron, and zinc supplement. It is best to meet with a Registered Dietitian to assess which supplements to take based on your eating patterns and where you live (for the Vitamin D).
Sample Day of Meals for Athletes Based on Training Time
Each of these charts show a sample day of eating based around the training time. The quantities of the foods may vary, as each athlete has different needs. However, the timing of these meals can be general guidelines.
Sample Meals: Workout in the morning
| Time | Meal/Exercise | Food |
| --- | --- | --- |
| 6-7:15am | Light Breakfast | Whole-grain toast, banana, and peanut butter with water on the side |
| 8-10am | Practice | Water |
| 10:30am | Post-practice/workout meal | Egg on whole-grain English muffin, turkey, avocado, and condiments of choice, with chocolate milk and water on the side |
| 1:30pm | Lunch | Brown rice, carrots, spinach, salmon, soy sauce or sesame oil and water on the side |
| 4:30pm | Snack | Almonds, apple, Greek yogurt, cinnamon, and water on the side |
| 7:30pm | Dinner | Chicken, sweet potato, broccoli, olive oil, and water on the side |
Sample Meals: Workout in the afternoon
| Time | Meal/Exercise | Food |
| --- | --- | --- |
| 7:30am | Normal/Heavy Breakfast | Egg on whole-grain English muffin, turkey, avocado, condiments of choice, orange, and water on the side |
| 10:00am | Light Snack | Whole-grain bread, banana, and peanut butter, water on the side |
| 11am-1pm | Practice/Workout | Water |
| 1:30pm | Lunch | Brown rice, carrot, spinach, salmon, soy sauce or sesame oil, and water on the side |
| 4:30pm | Snack | Almonds, apple, Greek yogurt, cinnamon, and water on the side |
| 7:30pm | Dinner | Chicken, sweet potato, broccoli, olive oil, and water on the side |
| 9:30pm | Small Snack | Granola and milk |
Sample Meals: Workout in the evening
| Time | Meal/Exercise | Food |
| --- | --- | --- |
| 7:30am | Normal Breakfast | Egg on whole-grain English muffin, turkey, avocado, condiments of choice, orange, and water on the side |
| 10:00am | Snack | Whole-grain bread, banana, and peanut butter, with water on the side |
| 1:00pm | Normal/Heavy Lunch | Brown rice, carrot, spinach, salmon, soy sauce or sesame oil, water on the side |
| 4:00pm | Snack | Almonds, apple, Greek yogurt, cinnamon, and water on the side |
| 5-7pm | Practice/Workout | Water |
| 7:30pm | Dinner | Chicken, sweet potato, broccoli, water on the side |
| 9:30pm | Small Snack | Granola and milk |